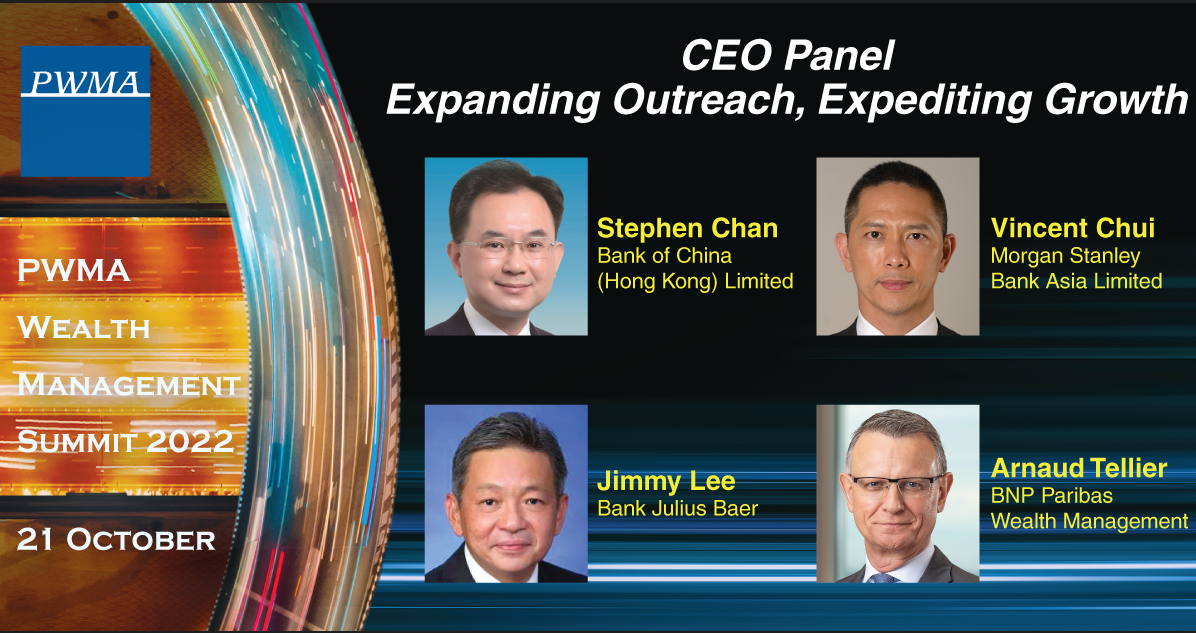 The PWMA Wealth Management Summit is taking place at the Hong Kong Convention and Exhibition Centre on Friday, 21st October 2022 – and will be an in-person event for the first time since 2019! If you haven't registered yet, make sure to act now before registration closes on 7 October 2022 (Friday).
Highlights of the Summit include the CEO Panel Discussion, at which industry leaders from Bank of China (Hong Kong) Limited, Morgan Stanley Bank Asia Limited, Bank Julius Baer and BNP Paribas Wealth Management share their perspectives and strategies for expanding business and fostering growth.
Other featured speakers include Nicolas Aguzin, CEO of Hong Kong Exchanges and Clearing Limited and Ronnie C. Chan, Chairman, Hang Lung Properties, who will both join our Keynote Panel Discussion on Hong Kong's Role as an International Financial Hub; Arthur Yuen, Deputy Chief Executive, Hong Kong Monetary Authority; and Dato' Seri Cheah Cheng Hye, Co-Chairman and Co-Chief Investment Officer, Value Partners Group Limited.
Digital transformation, the evolving needs of mainland Chinese clients, RegTech and the growth of alternatives are only some of the topics covered in this year's packed agenda.
To learn more and register, please go to PWMA Wealth Management Summit 2022 and PWMA Wealth Management Summit 2022 Registration
Remember, the Summit offers CPWPs and CPWPAs up to 6 OPT hours for full-day attendance including 1 OPT hour on PWM-related ethics and compliance.
For enquiries, please contact Dada Yau (3983 2308/dada.yau@plus-concepts.com) or Cherry Chan (3758 2247/cherry.chan@pwma.org.hk)